One of a series of posts about the First Career Steps survey.
---
One of the First Career Steps survey questions asks respondents what they plan to do after finishing high school. The most common answers focus on post-secondary education, including attending a four-year college, attending a two-year college, and attending a career training program. Less common answers include working full-time, joining the military, and pursuing an apprenticeship program.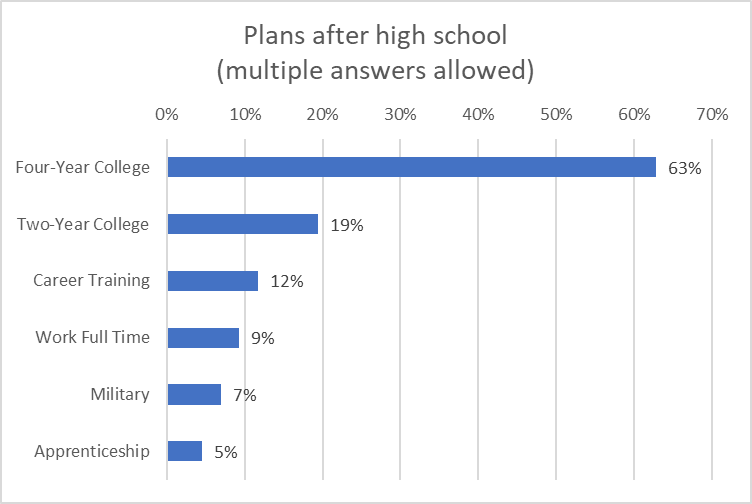 Survey responses vary by grade level, with an interesting pattern. From 7th to 11th grade, students become more likely to say that they expect to attend a four-year college, but respondents in the 12th grade are slightly less likely than others to say they expect to attend a four-year college, and more likely to say they they expect to attend a two-year college.
In a survey question described in a previous post, respondents were asked "how do you feel when people ask you about your career plans? Do you feel confident, worried, excited, bored? Ready or not-so-ready?" Responses suggest that a mixture of confidence, excitement and worry rises and falls during the years from 7th to 12th grade, with the oldest students most likely to be worried, but also most likely to be excited about their next steps.
The decision whether to attend a four-year college, two-year college, or career training program has received increasing attention in recent years, with attention to the challenges of attending college during a pandemic, concerns about student loans, and increasing awareness of opportunities that are accessible through pathways other than four-year college. The survey data suggests a decrease in recent years in the percentage of students who say that they expect to attend a four-year college.
Food for thought. For teachers, youth program staff and school counselors: In your experience, when do students decide what type of college they will attend? How can you be sure they are confident and excited about their first steps? Do you see any shifts in the number of students who are pursuing post-secondary education? How is your school or youth program helping students to explore a wide range of options? For students: Among your circle of friends, family, and classmates, are students comfortable in exploring a wide range of possible first steps after high school? What experiences have helped you to feel most confident about your first career steps? What information has been most helpful? How have you been able to provide encouragement to friends, family and classmates going through the same decision-making process?
A next post will look at the career development experiences that help students to feel well-prepared, confident and excited about their first career steps.
ABOUT THE SURVEY: See "About the First Career Steps Survey" for details about the survey. Over 7,500 responses have been received since Fall 2011. The results provide a rich data set for analysis. However, please note that this set of responses is not necessarily representative of all students, but is based on the mix of school staff, program staff and individuals who find the survey link online and complete the survey. Because the survey is not necessarily a representative sample, the results should be considered "food for thought" and used as conversation starters rather as than definitive results.