In the First Career Steps survey, how many students express interest in careers related to manufacturing? What experiences have led students to these interests?
In the First Career Steps Survey's open-ended question about career interests, approximately 1.5% of survey respondents expressed interest in manufacturing production careers, including machinist trades, welding, and general factory production work. Other manufacturing-related career interests were also found in engineering (robotics engineering, mechanical engineering) or science (aeronautics, aerospace). Overall, interest in manufacturing and manufacturing-related work was relatively rare among First Career Steps survey respondents, representing less than 3% of survey responses.
According to the Brookings Institute's Global Manufacturing Scorecard, 10.5% of the U.S. workforce is employed in manufacturing. Manufactured products make up 12% of total national output, and U.S.-produced products make up 18% of global production. (Brookings Institute: Global manufacturing scorecard: How the US compares to 18 other nations (brookings.edu))
Globally, the manufacturing sector is an import engine of economic growth and employment, generating jobs directly in manufacturing plus additional jobs in engineering, design, transportation, retail and wholesale trade and other sectors. In developed countries including the U.S., Canada, Europe and Japan, following years of long-term decline in manufacturing employment, this sector has recently become more resilient, and by most reports, demand for manufacturing workers exceeds the supply of available workers. Similarly, in developing countries, the manufacturing sector represents an area of growth.
Given the importance of the manufacturing sector, what does the survey tell us about student interest in manufacturing careers?
(1.) Students appreciate the opportunity to use career exploration tools, visit workplaces, hear about careers, and have hands-on experiences. Many survey respondents who expressed interest in manufacturing careers mentioned that they have welding classes or other vocational programs in their schools. Many mentioned a desire to have more opportunities to visit workplaces, hear career speakers, have hands-on experiences, and generally have more opportunities to learn about a wider variety of career pathways other than those requiring four-year college, and more opportunities to learn about careers other than the "big jobs" like doctor or lawyer. One respondent wrote: "They should teach more about different careers, other than the basic ones. They usually only teach about doctors, dentists, military, carpentry, and other common careers when they should also teach about careers that don't get much recognition."
(2.) Students who expressed interest in manufacturing careers were more likely to envision next steps other than 4-year college (but also including 4-year college).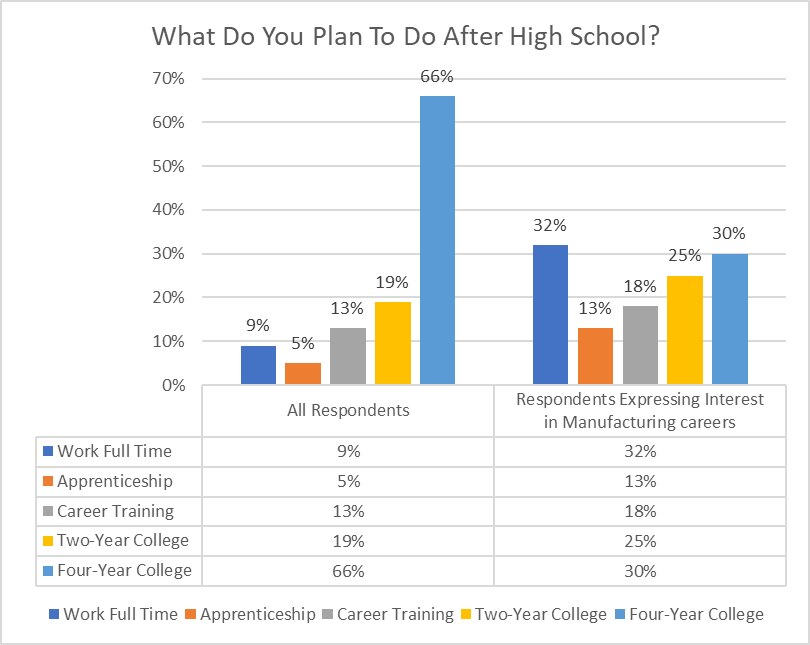 (3.) In a survey question about "How confident are you in the following career skills?" survey respondents who were interested in manufacturing careers were especially likely to express confidence in their skills in working with tools and equipment. (Among survey respondents overall, this was an area of generally lower confidence.)
Student career interests typically reflect career areas that they know to be important in their communities, personally engaging, and perhaps linked to personal passions or favorite school subjects. We don't expect career interests to be distributed in exact proportion to each career's share of the economy, since some career areas are more closely related to students' day-to-day experiences. Personal experience with sports, music, art, videos, video games, cooking and food, or pet care often leads to career interests in those areas. Familiarity with healthcare and education settings supports interest in careers in health or education. For many, manufacturing is a less-familiar career area, and thoughtful career development education is an important element in helping students to be aware of these opportunities. Career development education should include:
opportunties for see and hear about a variety of manufacturing and manufacturing-related careers;
information about the variety of post-high-school pathways (including career training, apprenticeship, two-year and four-year college) available to students;
opportunities to gain hands-on experience with a variety of tools and equipment; especially important for a generation that tends to have more screen time and less opportunity to build and create with their hands.
Part of a series of posts about the First Career Steps survey. In the First Career Steps Survey, we ask "If you can, list one or more career areas that might interest you." with room for up to four open-ended answers. From the start of the survey in November 2011 to November 2021, 6,478 of the 7,500+ survey respondents have listed one or more career interest areas in this question, with a total of 17,313 open-ended responses. Skills Library interns have coded these answers into career clusters and broad categories, allowing us to look for common interests, patterns and trends. Thank you to Emma Klektoka and Ben Gardiner for data analysis.